This is we explain to you all about measuring bolts. This information can come in handy when you are trying to order a certain size bolt. Giving us the correct size ensures that we send you the right size.
METRIC BOLT MEASUREMENT

First measure the flange bolt's "length" ( l ) measure from the Bottom of the head to the End of the bolt. This length measurement does not include the head and for metric bolts is in mm.
To measure a bolt's diameter ( d ) measure across the thread of the bolt. This measurement is also in mm.
METRIC THREAD PITCH

The next next measurement is generally not required with us because in most cases the majority of the motorcycles and ATVs all use a standard pitch. Common metric thread pitch for motorcycle and ATV uses are M4-.7, M5-.8, M6-1.0, M8-1.25, M10-1.5, M12-1.75, M14-2.0 and M16-2.0. Where the first number indicates the bolt diameter in mm, the second number indicates the thread pitch in mm.
For example M10-1.50 indicates a 10mm thread diameter with the spacing between the adjacent "peaks" of the threads = 1.50 mm.
Typically a metric bolt's size is stated like this....
M(d/diameter)-pitch x(l/length)
For example if a bolt's diameter is 8mm with a pitch of 1.25 and a length of 25mm.
The bolt size is a M8-1.25x25
METRIC GRADES
Specbolt uses 8.8 and 10.9 grade which will meets and even exceeds motorcycle and ATV manufacturer's specs.
If we want to approximately compare metric grades to U.S. grades, a metric 8.8 is roughly equivalent to a Grade 5. Grade 10.9 is roughly equal to a Grade 8; and 12.9 is roughly equal to a Grade 9. Metric nuts are marked with a single or double numerical symbol (8, 10 or 12). Always match bolts and nuts of comparable grades (use a Grade 8 nut with a Grade 8 bolt; use a metric grade 10 nut with a 10.9 grade bolt, etc.). When dealing with metric fasteners, the 8.8 bolts are similar to a Grade 5. Where you need higher tensile strength in metric, stick to 10.9. We do this for you in all of our kits
The higher the first number, the stronger the bolt in terms of tensile strength. The higher the second number, the longer it will take to enter the yield point.
Frequently Asked Questions
What was the 150pc kit designed for?-
To bridge the gap between our popular 120pc CR kit and our bigger 250pc CR kit. The 150pc kits have the stuff you really want.
-What is an OEM matching bolt?-
OEM matching bolts have the same design and look of your original bolts. Our OEM style bolts are designed to match exact factory sizes with the same head style and strength ratings (8.8 or 10.9 grade) that originally came on your motorcycle. They all meet or exceed the factory specs.
These are all heat treated and zinc plated to look great, resist corrosion, and last the life of your motorcycle or ATV.
-Can I find these at a local hardware store?-
As most of us know from experience, OEM style fasteners are not available at our local hardware stores. The metric fasteners found at Ace or Home Depot are not going to match.
These fasteners are usually only found at the cycle dealerships and expensive to purchase on an individual basis.
It's great to have the right fasteners on hand when you need them.
-What about OEM style nuts?-
Specbolt uses OEM matching nuts. You get a generous assortment of both locking and non locking nuts in M5, M6, M8, and M10 sizes.
-What about metric washers?-
Washers are important for many things including plastics and bodywork, engine, and exhaust mounts. We include a nice variety of the most commonly found washers used on your bike.
-Will I get any sealing washers?-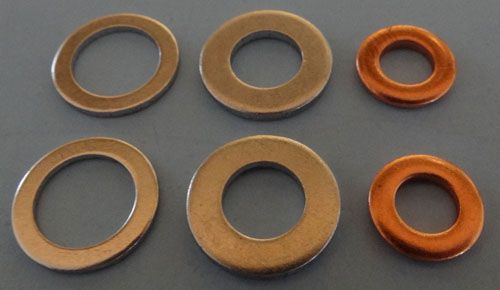 Specbolt 150pc kits contain copper and aluminum soft tempered compression washers. 2 each of 3 different, most needed sizes. The size are M6x11 copper typically used for your coolant drain bolts or oil height check bolt, M8x15 aluminum used for oil drain plugs, and M10x14.5 aluminum for hydraulic brake lines, etc...
-What if I have aftermarket parts on my bike?-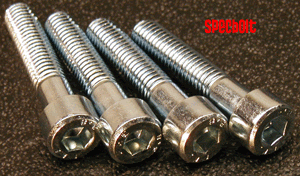 Specbolt kits include some additional sizes to fit some of the aftermarket items on your bike as well...such as triple clamps, exhaust, etc ... If you want to be sure to get the right size fasteners for your specific aftermarket part...just ask. We strive to get you everything you need.
-Will I get every nut and bolt found on my bike? What isn't included?-
This kit is designed as a maintenance kit and is a great assortment most of the commonly used fasteners found on your bike. It is not a full on restoration kit. It doesn't include shock or suspension/linkage bolts, axles/axle nuts, swing-arm bolt, or any long case bolts over 40mm.
-What if I want to customize my kit or request more of a certain type of fastener?-
Not a problem...If you have any special needs or want to request certain sizes just send me an email or call me. I will do my best to create a custom kit with your specific needs in mind.
-What if I run low on a certain fastener. Can I get refill packs?-
Yes... We offer every one of our fastener sizes in convenient and economical refill packs. Just send us an email, check the website, or call us at 909-675-0190
Don't get caught working on your bike and not having the right fasteners again!!!